Visit LPS online at http://www.lps.org/
This page can be found at http://www.lps.org/apps/courseguide/index.html?
or by using the QR code to the right.
Our Schools »
Popular Pages »
Contact »
Partner Organizations
High School Course Guide
Current course data: 2013-2014 school year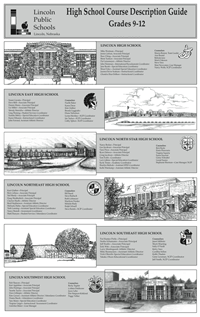 Welcome
The High School course guide allows students to browse the courses available at Lincoln Public Schools high schools. Interesting courses can be marked and saved for later for easy reference when it is time to register.
How to use this
Search
You can easily search for courses by indicating a title (or part of a title), a location at which the course is offered, the course number or other criteria.
Browse
Not sure what you are looking for? Do a loose search to get a larger list. For example, only indicate that you are looking for courses at your school. You will then get a list of all available courses.
Bookmark
If you would like to bookmark some courses that you are interested in, login with your LPS student id and password. You will then find stars next to every course which you can click to save the course. You can then print the courses you have marked at the bottom of the right column. This is NOT a course registration system. Bookmarking courses is for your personal reference and does not register or indicate your intent to register for any course.
Course Guide Information
Login to Access Your Faves
Search